You probably haven't seen anything like Girls Out West before, and once you do, you probably won't want to see anything else. You'll be ruined. Simply put, the content on this site is truly incredible. Where do I even start? Let's start with the ladies...
The Girls Out West are basically Australian hippies. Ok maybe hippies is a strong word, but let's just say they would look right at home in your local liberal arts college. And by that I mean have an alternative and naturalistic appearance and style. Makeup is typically nowhere to be found. And.. well.. they're hairy. Like, really hairy, pits and all. Nowhere to be found are the basic aesthetic tropes that plague typical porn scenes (clown levels of makeup, salon highlights, uber-tans etc..) And it isn't a runway show of twiggy frames; on Girls Out West, you'll see girls of truly every body type. The one thing they all have in common is that they are all beautiful, and comfortable in whatever skin they're in. These ladies are all-natural, and better for it. It's refreshing to see all body types celebrated by the film makers and worshiped by the ladies on screen. And it really lends realism and honesty to the scenes.
In fact, that's one of the best things about the scenes. All the ladies seem genuine. Gone are the ditzy, hyper-self aware, over-acting fake-boob bimbos that look like NFL wives and act like reality stars. Say hello to adorable, friendly, fun-loving hippie chicks, with no inhibitions, and nobody to impress (which, ironically, makes them all the more impressive.)
Every scene feels completely real. As in it's less like you're watching a scene and more like you're simply a fly on the wall in the bedroom (or kitchen, or garden, or wherever) in which a couple of real lesbians are having real sex. They're sweet, and soft, and loving, and lusting, and kissing, giggling, licking, playing, and loving each other like real people do. I don't even want to call them "scenes." It's just two lesbians having sex whilst there happens to be somebody filming it. And not phony baloney overly moany porn "sex." These aren't the typical porn bimbos just putting on a show, and absurdly moaning and howling whilst their vag is bone dry. None of the cringy acting or awkwardness that plagues most porn. Just fun ladies that truly enjoy pleasuring each other.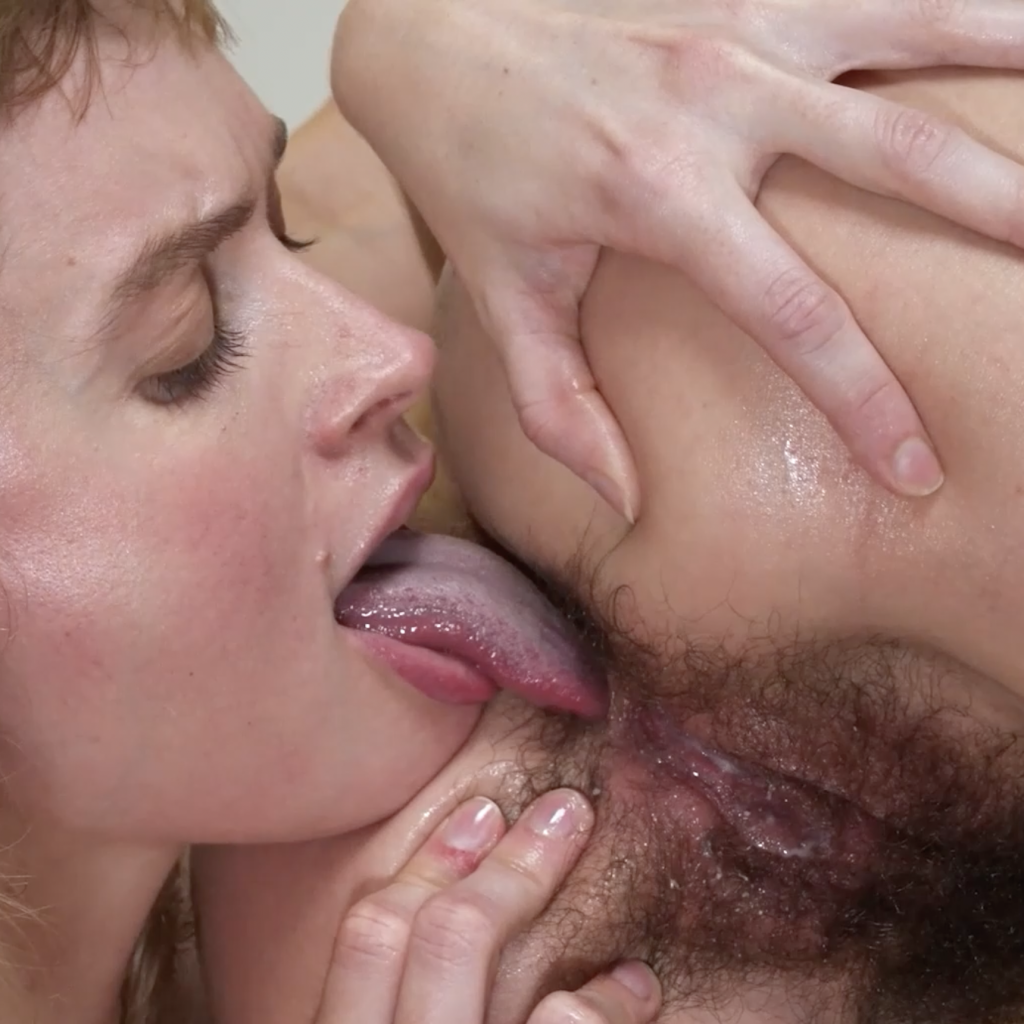 And despite being amateurs, all of the ladies seem perfectly comfortable and at ease being everything from soft, gentle, intimate lovers, to freaky, lust-driven wildings, and everything in between while being filmed. You'll sense practically zero awkwardness, hesitation, or inhibition. Probably due in no small part to a genius move on GOW's part of having every scene filmed by women. And it never feels like a set or a staged setup. Or like there's a team of filmmakers on the other side of the camera. It always feels cozy, comfy, and natural. No doubt this all goes a long way toward making the ladies feel comfortable. Comfortable enough to have real sex. Comfortable enough to orgasm. As in REAL orgasm (most of the time anyway.)
There's just nothing like seeing an engorged, dripping wet pussy, in full-bloom lady-boner status, dribbling fluid while being french kissed by a beauty. And there's just something primally stirring about thick, dark, hippie pubes plastered to skin by slobber and juices. Or pit hair for that matter. Yes, these lovely ladies frequently take to lapping at each others pits. Sound weird, but it's pretty hot to watch these ladies get weird, and to see that they have truly no boundaries. Once you see a wide, flat tongue slide up the armpit hair of a smiling, panting beauty, you'll be hooked.
Oh and I'd be remiss if I didn't mention the butt licking. Oh the glorious butt licking. Every scene features closeups of the ladies licking, lapping, and slathering saliva all over each others bumholes. And don't confuse this with the typical lame butt-licking you seen in most porn, with minimal tongue to booty contact, poor camera angles, etc. No, these ladies go to town! Slathering their tongues around each others' hairy butt cracks in almost gluttonous fashion. And the camera angles catch every dripping, glistening inch.
Ok ok, I know this is turning into a filibuster. Last thing. The library of content is huge. Girls Out West has over 20 years worth of content in their archives, totaling (at the time of writing this,) almost 5,000 videos. That's a massive catalog. And at $15/mo for a 3 month contract, it's a steal. And given the aforementioned quality and the 4k resolution, it's kind of a no brainer for anyone willing to pay for lesbian porn. I'm telling you, you won't find better.
I could go on all day, but I suggest you stop reading, and head over to Girl Out West to see for yourself why this beautiful site easily tops our list of Premium Lesbian Sites. Won't take long for you to see why.